ExactScan: Support for Your Document Scanner Under macOS
Towards a paperless office
Go paperless with the help of ExactScan. Scan, file, sort, archive, and find your documents in a snap. Save time and money by transfering your paper into the digital world. ExactScan supports a variety of professional scanners, and image processing to create clean and small files.
Built-In Scanner Drivers

ExactScan is a modern scanning solution, including more than 500 different drivers for document scanners from Avision, Canon, Fujitsu, HP, Kodak, Oki, Panasonic, Visioneer and Xerox, which otherwise don't come with a manufacturer's Mac driver and thus wouldn't work at all. Additionally it also allows the use of different scanners with TWAIN and ImageCapture drivers.
Paper Size Detection (Auto-Crop)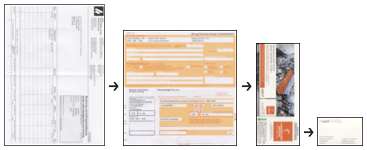 This automatic paper size detection for the built-in drivers recognizes any page size and allows the user to create multi-page documents with different sizes. Furthermore, it can create multi-page documents from flatbed, too.
Skew Correction (De-Skew)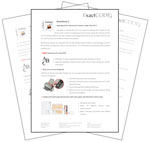 ExactScan has sophisticated image algorithms which allows the built-in drivers to recognize automatically, how the images and documents have to be cropped and de-skewed.
Automatic Black & White Optimization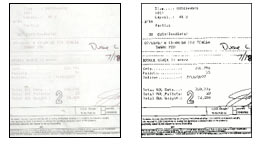 The intelligent thresholding helps to optimize the black & white documents and together with the blank page detection can save a lot of storage space. All in all ExactScan really lives up to professional requirements.
Blank Page Detection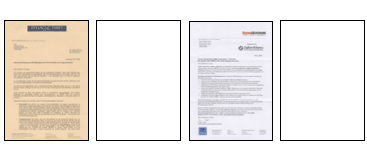 ExactScan recognizes empty pages to save storage space and edit time.
It can also delete the blank pages of your document to save storage space.
- or -
To obtain the sequence of your document ExactScan can insert empty PDF pages as place holders.
Solid Colors
ExactScan features an option to smooth uniform colors in the background, which results in reduced file size and a more pleasant view. This option also allows the user to focus on the image foreground.
Easy Scan at Your Fingertip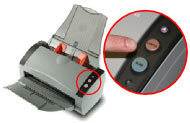 With the new button and profile manager you can scan paper documents much faster and easier with the click of a button:
Automatic Scan to PDF or other file formats
Create searchable PDF on-the-fly
Define your own personal profiles and make ExactScan fitting exactly to your workflow!
Print Support (Scan to Print)
Make copies on your Mac using your existing scanner and printer.
Individual File Naming
ExactScan makes use of advanced macOS user interface elements and allows comfortable editing of the resulting filename:

AppleScript Support

ExactScan includes extensive AppleScript support for professionals, and allows the user to:
Directly access your profiles
Set your resolution, color mode, destination directory, profile name and application
Monitor the processing status from ExactScan after sending the scan request
Agile development
We are a highly agile and creative team and constantly develop and update our products based on valuable customer feedback.
Supported Formats
PDF, TIFF, GIF, PCX, JPEG, JPEG-2000, BMP, PNG, PNM - ExactScan Pro: RTF, HTML, TXT
ExactScan Pro: Additional Features
Optical Character Recognition (Searchable PDF)

Create searchable documents on-the-fly with the click of a button.

The OCR engine supports the following languages:
Bulgarian, Croatian, Czech, Danish, Dutch, English, Estonian, Finnish, French, German, Hungarian, Italian, Latvian, Lithuanian, Polish, Portuguese, Rumanian, Russian, Serbian, Slovenian, Spanish, Swedish, Turkish, Ukrainian, and Norwegian.
Auto rotation
The auto-rotation feature allows ExactScan Pro to determine the orientation of each scanned sheet automatically, therefore avoiding the need to manually pre-sort a stack before the scan. Because the auto-rotation works independantly of the OCR, the feature also helps to improve OCR results.
All automatic
Everything in the Pro version is automatic. Color and source detection avoids the need to manually switch between ADF, Flatbed, color, or black & white scans, as the optimal storage format for each page is automatically chosen.
Append to PDF files
Forgot a page, or continue scanning later, or another day? The Pro version can open PDF files and directly add more pages without the need of an external PDF editor.
Content de-skew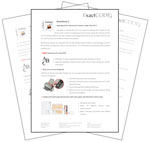 The content de-skew allows to correct page skew based on the page's content. Further improving visual appearance, storage size as well as OCR results.
Barcode Recognition (1D)

The 1D barcode recognition engine (UPC, EAN, code25, code39, code128, ...) allows to name or split batches by common barcodes. It also allows to embed the barcode content into the PDF document - through this the barcode parameters can be found e.g. with Spotlight. It even recognizes difficult images with colored background, overlapping and distortion.
Imprinter

The Imprinter allows ExactScan Pro to print flexible text into the scan. For example the scanned date, or watermarks such as "APPROVED", "VOID", "PRELIMINARY", "CONFIDENTIAL" or anything else.
Batch Processing
Process existing files, whether PDF or bitmaps, as if they came from a scanner.
ExactScan Enterprise: High-speed ahead
High-speed volume scanners


To support you with high speed (100 pages per minute and higher) scanners, ExactScan comes in an Enterprise-ready flavour.
PDF/A
Additionally to the highly compressed PDF variants of ExactScan Pro, the Enterprise version comes with support for PDF/A-1b for certainl long term archival requirements.
2D Barcode Recognition

Additionally to the 1D-barcode recognition of the Pro version, the Enterprise version also supports recognition of 2D, Datamatrix and PDF-417 codes.
Support & updates
Two years free updates
After initial installation and activation we provide you with support and free software updates for at least two years. (For ExactScan v2 we provided over 100 free updates in 7 years!)
We also listen to customer feedback and constantly implement new features, functions and new scanner support.
Upgrades
Adapting to OS updates, new scanner models and vendor's driver updates consume significant development resources.
To update to new versions after the first two free years we provide upgrade licenses at a reduced price to fund continous support and development.
General Information
Interface Language Support
The ExactScan user-interface comes with the following language translations:
English, Dutch, French, German, Greek, Italian, Japanese, Portuguese, Russian, Spanish, Ukrainian, Chinese (simplified) and Chinese (traditional).
System Requirements
macOS 13, 12, 11, 10.15, 10.14, 10.13, 10.12, 10.11, 10.10, or 10.9